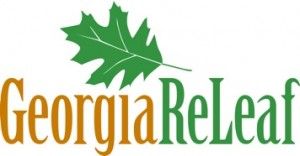 Each year, a limited amount of funding is available to support tree planting projects through Georgia Tree Council's Georgia ReLeaf program.  To help restore the many environmental, economic, and social health benefits that trees provide Georgia communities, the Georgia Urban Forest Council (GUFC), in cooperation with the Georgia Forestry Commission (GFC), established the Georgia ReLeaf  program in 2011 to bring urban forests back to life by planting trees in public areas such as parks, schools, main streets, and business districts. Since its inception in 2011, the Georgia ReLeaf program has distributed $134,414 in funding to Georgia communities. 
Eligible Georgia ReLeaf projects must fall into one of three categories:  1) Tree planting on public property to replace canopy lost to storms, 2) Tree planting projects that honor or benefit military veterans, or 3) Tree planting projects that contribute to tree equity in under-resourced communities.  The Georgia ReLeaf Program is not intended for the purpose of beautification tree plantings.
The objectives of the Georgia ReLeaf Program are to: 1) Restore the environmental, economic, and social health of Georgia communities; 2) Help sustain health and diversity in Georgia's community forests; 3) Provide technical assistance to communities; 4) Improve planning efforts of city administrators, municipal tree departments and tree boards; 5) Provide opportunities and recognition for veterans who have served our country in the armed forces; and 6) Contribute to tree equity in Georgia communities, improving the quality of life in under-served, under-resourced neighborhoods, .
Government agencies, non-profit organizations and educational institutions are eligible to apply.
Georgia ReLeaf is currently funded through individual and corporate contributions.
To see a list of past Georgia ReLeaf grant recipients, click here.
The 2022 application for Georgia ReLeaf funding will be posted soon.
2021 Georgia ReLeaf grants distributed
The Savannah Tree Foundation, the City of Dublin, and Keep Golden Isles Beautiful are recipients of 2021 Georgia ReLeaf grants.  Projects:
Savannah Tree Foundation:  Big Trees for Tiny Homes - Improving Veteran's Quality of LIfe in Chatham County
STF and Savannah-Chatham Authority for the Homeless have partnered to plant trees at the Cove at Dundee, a 46-unit tiny home community for formerly homeless veterans.  The trees will enhance veterans' quality of life by reducing noise from nearby roads, providing additional greenspace, shade to reduce temperatures, and screening for privacy between homes.
City of Dublin:  The Stubbs Park Tree Project have enhanced residents' quality of life by bringing more tree equity to three neighborhoods near downtown Dublin.  As opportunity zones, these neighborhoods have experienced substantial tree loss in recent years.  Planting trees and installing irrigation will help alleviate the tree disparity in the area.
Keep Golden Isles Beautiful:  The Brunswick Community Orchard Project has planted "a patchwork of edible orchards"  beside heavily pedestrian-travelled areas in Brunswick. The MLK Trail, Inez Williams Park, MLK Median and Miller Park, and Palmetto Park community orchards bring the total Brunswick Community Orchards to twelve.
2021 Georgia ReLeaf grant recipients
---
THANK YOU!
And we thank the numerous individual donors for their contributions to Georgia ReLeaf over the years.  You are helping us sustain Georgia's green legacy.
---