Georgia Tree Council Program Presentations
The Georgia Tree Council informs and educates communities on urban forestry issues.  The following is a sampling of presentations from our educational programming over the past several years.
---
"TREE ORDINANCES:  WHICH TYPE IS RIGHT FOR YOUR COMMUNITY?"               
February 7, 2019 at the City of Duluth Maxine Garner Center
The Evolution of Tree Ordinances by Joe Burgess, Georgia Forestry Commission
---
2018 ANNUAL CONFERENCE:  "BUILDING RESILIENT COMMUNITY FORESTS"  NOVEMBER 14-15 AT THE JEKYLL ISLAND CLUB HOTEL
The Coming Hurricanes, Sea Level Rise, and the Effects on Community Trees by Dr. Kim D. Coder, Professor of Tree Biology and Healthcare, Warnell School, University of Georgia, Athens
The Impact of Light Pollution on Urban Ecology and Human Health by Puneet Dwivedi, Ph.D., Associate Professor, Sustainability Sciences, Warnell School of Forestry and Natural Resources, University of Georgia, Athens
---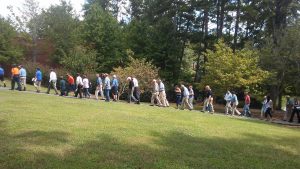 2018 COLLEGE CANOPY CONFERENCE
SEPTEMBER 11 – At this year's College Canopy Conference at  Clayton State University in Morrow, we heard talks on the latest research regarding changing urban landscapes and concerns such as the West Nile and Zyka viruses; campus sustainability, best practices for treecare and campus communication; tree risk assessment and keeping people safe; establishing a butterfly garden, pollinator garden, or arboretum; and specific challenges for treecare on college campuses.
Influence of Forest to Urban Conversions on Incidence of West Nile Virus near Atlanta, GA.  Dr. Graeme Lockaby and Nicole Castaneda, Auburn University
Web-based and Mobile GIS Applications Used for Crowd-Sourcing and Citizen Science in Urban Forestry  Dr. Allison Bailey, University of North Georgia
---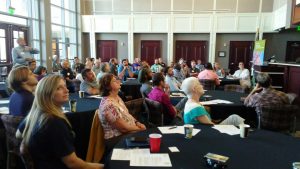 TREES AS GREEN STORMWATER INFRASTRUCTURE
AUGUST 8 – The City of Suwanee hosted GUFC's third quarterly program. our fourth annual "Trees as Green Stormwater Infrastructure" educational event.  David Dechant, LEED AP, SITES AP and Board Certified Master Arborist at Arborguard Tree Specialists; Joe Burgess, Community Forester and Regional Specialist, with the Georgia Forestry Commission; and William Hodgins of the Center for Watershed Protection in Ellicott City, MD, as well as panelists Christine McKay (EPA Region 4), Amanda Hallauer (City of Atlanta Watershed Management), and Eric Kuehler, USDA Forest Service, led our continued conversation on the challenges and recommendations for incorporating trees into the growth of our communities for vital stormwater management and other benefits.    Click on the blue links below to view the presentations.
David Dechant, LEED AP, SITES AP and Board Certified Master Arborist at Arborguard Tree Specialists:  Trees as Green Stormwater Infrastructure (GSI) may improve the resiliency of urban centers.  In addition to learning how GSI can be implemented, attendees will learn about the difficulties landscape design professionals face getting newly planted trees large enough to provide GSI benefits.
Tree ordinances and Green Infrastructure: Why Overachieving is Killing Community Forest Sustainability: Joe Burgess, Community Forester and Regional Specialist with the Georgia Forestry Commission
William Hodgins, P.E., Senior Water Resources Engineer, Center for Watershed Protection, Ellicott City, MD "Making Trees Count" is the result of a project funded by the USFS National Urban and Community Forestry Advisory Council. Through the project the Center sought to answer the question, what is the effectiveness of urban tree planting for reducing runoff, nutrients and sediment? The project team developed a water balance model to provide an improved method for quantifying the stormwater benefits of urban tree canopy. The results can assist with calculating tree planting credits for pollutant load and stormwater in the urban environment. Also visit http://www.cwp.org/making-urban-trees-count for more detailed information.
---
APRIL 25, 2018:  GUFC SECOND QUARTER PROGRAM, ROME GA:
MARTIN L. CIPOLLINI, PHD, DANA PROFESSOR OF BIOLOGY, BERRY COLLEGE: Restoring Mountain Longleaf Pine and American Chestnut in Georgia
RICK BARNES, DOWNEY TREES, INC.: A Trail of Trees to  Georgia's History(presentation).  Click here to download accompanying notes.
---
NOVEMBER 7, 2017:  GUFC ANNUAL CONFERENCE, CALLAWAY GARDENS LARRY MORRIS, PH.D, WARNELL SCHOOL OF FOREST AND NATURAL RESOURCES:  Components of Soil Health: Essential Physical, Chemical and Microbiological Conditions 
---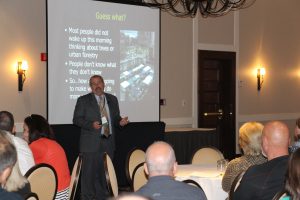 FROM 2016 ANNUAL CONFERENCE:
COMMUNICATING, CONNECTING, AND ENGAGING PEOPLE WITH URBAN FORESTRY:  Paul D. Ries, College of Forestry, Oregon State University
COLLECTIVE IMPACT: A NEW FRAMEWORK FOR URBAN FORESTRY COLLABORATION:  Paul D. Ries, College of Forestry, Oregon State University
ECOLOGICAL RENOVATION IN COMMUNITIES: Dr. Kim Coder, Warnell School of Forestry and Natural Resources, University of Georgia 2016 PAPER, PRESENTATION
STREAMBANK RESTORATION: Duncan Hughes, Soque River Watershed Association
CREATING COMMUNITY IMPROVEMENT DISTRICTS: Kathy Morgan, Hwy 278 Improvement Association
ENVIRONMENTAL JUSTICE:  Cassandra Johnson, US Forest Service, Southern Research Station
CHEW CREWS IN URBAN FOREST RESTORATION: Elizabeth G. King, Ph.D., University of Georgia
---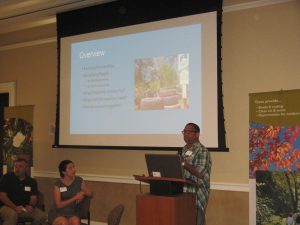 Presentations from "Continuing the Conversation:  Trees as Green Stormwater Infrastructure," August 18, 2016, Alpharetta City Hall:  "Urban Forest Systems and Stormwater" by Eric Kuehler, USDA Forest Service; "City of Atlanta's GI Strategic Action Plan" by Susan Rutherford, City of Atlanta Watershed Department; "Alpharetta Stormwater and Trees," by David Shostak, Arborist for City of Alpharetta; "Georgia Land Conservation Program," by Fuller Callaway, Georgia Environmental Finance Authority; "Trees and Stormwater" by Andrea Greco, Landscape Architect, Pond and Company; "Monitoring Underserved Communities," by Darryl Haddock of the West Atlanta Watershed Association.
---
Presentations from the Fourth Annual GUFC College Canopy Conference, September 17, 2014, Berry College:  Why Trees Fail by Dan Bauer, Arbor Equity, Inc; Trees and Sustainability by Susan Kidd, Director of Sustainability at Agnes Scott College; Trees, Critical Root Zones, and Construction, by Jamie Blackburn of Arborguard Tree Specialists; and Trees and Management Plans by David Gennaro, Grounds Director, Spelman College.
---
Presentations from GUFC's 23rd Annual Conference, "Tree Canopy and Green Infrastructure: Creating Vibrant and Healthy Communities," Oct. 23-24, 2013, Columbus, GA:
B.G. Lockaby, Ph.D, Auburn University: The impacts of land use changes on stormwater flow and water quality and the scientific data behind arguments for increasing green infrastructure.
Karen Firehock, Executive Director of the Green Infrastructure Center, Charlottesville, VA: Green Infrastructure Planning and Green Infrastructure Policies and Ordinances.
Mike Beezhold, Senior Planner, CDM Smith: The Lenexa, Kansas Rain to Recreation Program
Mark Duntemann, Consulting Arborist, Natural Path Urban Forestry Consulting:  Managing the Liability of Urban Trees.
Tara Merrill, Environmental Sciences & Techologies, Inc.: Green Growth Guidelines
---
2013 Georgia Forestry Commission Storm Mitigation Workshop – Planning & Issues: This Powerpoint contains two presentations for the Georgia Forestry Commission workshop series on Storm Mitigation.  The first is a short review of the workbook section beginning on page 25 that guides users through the development of a storm mitigation map.  The second is a discussion of  disaster response/recovery experiences of Urban Forest Strike Teams (UFST) related to disaster planning.
Community Forest Storm Mitigation Planning Workbook and Template
Community Forest Storm Mitigation Planning Presentation Part A
Community Forest Storm Mitigation Planning Presentation Part B
Community Forest Storm Mitigation Planning Presentation Part C