Campus Tree Conference 2020: A Webinar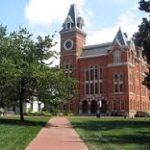 Join us for a webinar on September 17, 2020 at 10:00 AM EDT.
Georgia Tree Council brings you their Campus Tree Conference this year in webinar form. Do you take care of trees on a campus? Physical plant managers, landscape directors and crews, administrators, and others at colleges and universities are invited to register, as well as those treekeepers for any campus-type setting. During this 3-hour online program, we'll hear a variety of speakers on
- how to make a good contract for arboricultural services at your campus,
- what a commercial tree company should expect when working with a campus,
- how to get your campus certified as an arboretum,
- how to ensure that your campus trees and greenspace remain healthy and thriving during these challenging times and
- The latest on the Tree Campus USA program.
Speakers: Bodie Pennisi, Professor of Horticulture, CAES - Griffin Campus, University of Georgia; Arbor Equity President Dan Bauer; Agnes Scott College Sustainability Fellow Karina Leung; and Ellen Bauske, Ph.D., Center for Urban Ag / Department of Plant Pathology Program Coordinator, University of Georgia, Griffin Campus.
REGISTRATION FEES:
If you are a Georgia Tree Council member, please use the discount code GTCMEMBER30 (all capital letters, no spaces) to receive the member price of $30.
The non-member registration fee is $45.
If you are paying by check, please use discount code PAYBYCHECK (all capital letters, no spaces) to get registered, and send a check for the appropriate full amount to Georgia Tree Council, P.O. Box 2199, Stone Mountain, GA 30086.
CEUS:
International Society of Arboriculture: Certified Arborist: 2.5; Municipal Specialist: 2.5; BCMA Management: 2.5
Society of American Foresters CEUs have been applied for,
Landscape Architects and others: A certificate of CEUs will be available for your records.
Photo courtesy Oxford College at Emory.